Create a more entertaining space by expanding the stage production for entertainment, broadcast content, and live events.
Our experienced specialists provide live broadcasting and real-time motion capture of all kinds of video graphic contents, from 3D graphics to real-time motion capture, including AR, VR, and MR, in combination with various hardware. We propose production effects from the technical aspect, coordinate cameras and AR equipment, and provide on-site operation.
SERVICE FEATURES
Features of the service
Support for Real-time Performance

Since the camera movement and CG are synchronized, it is possible to create AR effects in real time for live events and live streaming.

It is possible to produce according to the location

Since CG is displayed in real time on live-action video, AR production is possible without restrictions on places such as outdoors, indoors, and green backgrounds.

Support for switching out

By synchronizing multiple cameras, it is possible to deliver rich content while switching angles.

Minimal installation and adjustment time

Since this can be achieved only by adjusting the position of the CG and the venue, it can be done in about half a day of installation and adjustment.

Broadcast Station Compliance

Full HD output of AR video is compliant with broadcast standards (Uncompressed and non-degraded), resulting in low latency (approx. 3F to Main Switcher).

High quality CG synthesis is also possible.

By recording camera tracking data, higher quality CG synthesis is possible in post-processing.

Lighting design and operation similar to live action

Real-time operation is possible by designing on an actual lighting table.
TECHNICAL SERVICE
Services provided by LATEGRA
AR/VR Lighting

Reproduce the lighting plan and design in AR/VR with intuitive operation just like normal LIVE show.

Camera Tracking

Provides technology that allows actual and CG images to move in real time.

Camera Data Recording

High quality compositing is possible by recording camera tracking data
AR/VR Lighting
The lighting plan and design using the actual lighting tables and equipment will be reproduced in VR. By lighting in real time in the world of Unity or UE4, it becomes possible to proceed with the same intuitive operations and instructions as in normal LIVE show. In addition, the same lighting can be replayed over and over again by converting it into data and implementing it in Unity or UE4.
Camera Tracking
In combination with a camera data output device, it performs camera calibration and tracking and provides camera position information.
This allows you to display CG content you already have, such as CG characters, CG assets, particles, etc., on the AR space.
Since the camera tracking can be operated with multiple cameras, multi-camera AR switching can be realized.
Camera Data Recording
The camera-tracked position information will be recorded.
This information can be used to post-process high-quality composites that are not possible in real time.
When compositing is done in post-processing, the tentative compositing result can be displayed and photographed in the field. This allows for flexible operation and image sharing in production. It is also possible to re-render or add new ARs when selling packages that have been broadcasted once in a live event.
CONFIGURATION
EXAMPLE
Examples of System Configuration
This is an example of system camera switching specifications when using three cameras.
Camera tracking for 3 cameras・AR / VR lighting・Camera data recording・
AR video recording and switching out recording (broadcasting / distribution) for each camera are performed by building such a system.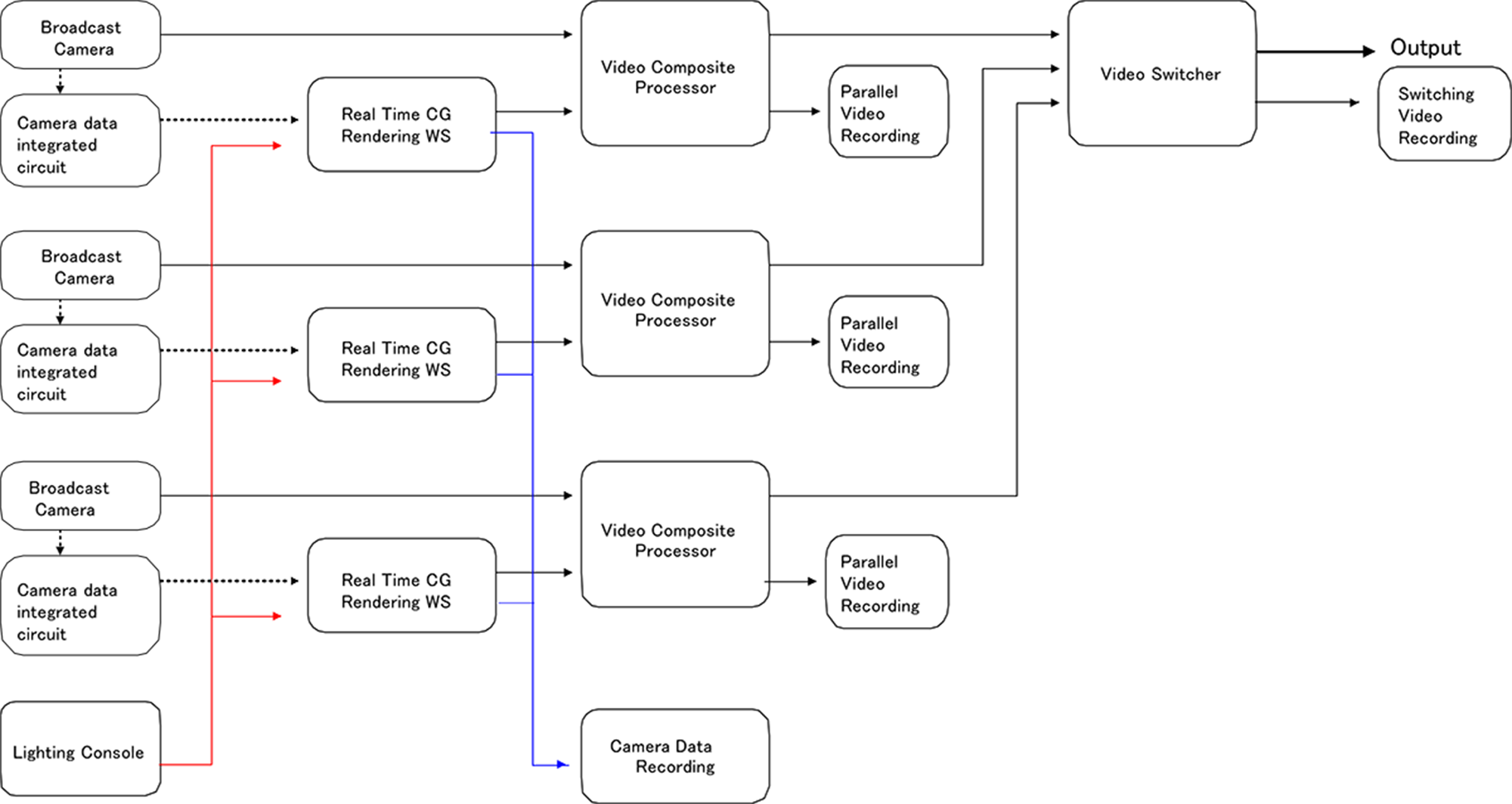 ・It supports single camera configuration and multiple camera configuration.
・It is possible to deliver while switching between different angles and camera work.
USAGE EXAMPLE
Example of Utilization
Stage Effects

By creatively expressing live performances and product explanations with CG production that responds to the scenes being delivered live and the movements of the performers, it is possible to create memorable productions for viewers.

Expansion of the venue space

Even for small venues or conference rooms that do not allow for much venue decoration, the addition of CG decorations tailored to the scene can create a striking visual effect.。

Co-starring with characters

By combining this system with motion tracking, it is possible to perform productions that are impossible in reality, such as co-starring with characters owned by companies or IPs on stage.
PRICE
| | |
| --- | --- |
| In the case of the above system configuration example | 2 million yen and up |
※Camera and switcher are not included.
※The cost will vary greatly depending on the partial provision of technology, the number of cameras, and the content of the performance.
First of all, please let us know what you would like to achieve and what your budget is so that we can make the best proposal.
Please feel free to contact us.
RESERVATION
Please contact us using the form below for applications and various consultations.
A representative will contact you in return.